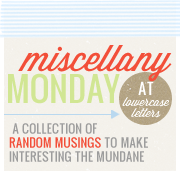 1.Pimples----I hate pimples, and I am going to blame school from getting a huge pimple,I hardly ever break out:/ It's right on my forehead and it hurts so bad.




Rain---- It's south Texas we hardly ever get rain. Oh how much I love it when it rains, nothing but a good book could go with rain:)



Bills----- I hate bills!! I wish they went away. I think everyone should awarded a year without bills, for everyone once at least in their life:)




Movies----I watch way too many movies but I love them alot. I think I can quote almost every movie I have ever seen, Im not sure if that is a good thing or a bad thing.